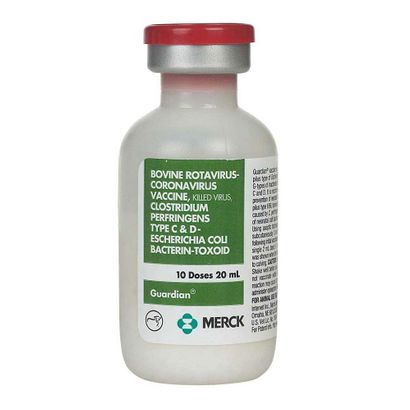 Merck Guardian Cattle Vaccine, Killed Virus, 20mL
Item# IWM024061
FREE SHIPPING Over $79! * Pet Food & Other Exclusions
Vetmedin is in limited supply. Orders placed will be shipped as product continues to come off backorder.
Notice
Description
Directions
Reviews
Notices
This item cannot be shipped to Minnesota, Canada and P.O. Boxes. Use must be approved by your veterinarian.
All vaccines are shipped via the Vaccine Shipping method. A $34.95 flat rate fee is charged for all orders containing vaccines. Vaccines are shipped in insulated packaging with ice in order to deliver chilled and someone should be present to sign for and receive the vaccine. For more shipping info click here.
During these hot summer months, we highly encourage shipping this item via Express (1-2 day); we cannot be held responsible for items that are shipped Priority (2-4 day) as the ice will not last that long.
Description
Guardian Cattle Vaccine is for the vaccination of healthy pregnant cattle and is a multiple-antigen product which includes a cell-free extract of K99 pilus type of Escherichia coli, a unique combination of two inactivated coronaviruses, two G-types of inactivated rotaviruses and a bacterin-toxoid from Clostridium perfringens Types C and D. It is recommended for use in healthy pregnant heifers and cows as an aid in the prevention of neonatal calf diarrhea caused by enterotoxigenic E. coli pilus type K99, bovine Group A Serotype G6 rotaviruses, enterotoxemia caused by C. perfringens Types C and D, and as an aid in the control of neonatal calf diarrhea caused by bovine coronaviruses.
Key Benefits
Bovine combination vaccine
Protects against Enterotoxemia, E. Coli and Coronavirus
Killed vaccine
For use in in healthy, pregnant heifers and cows
Directions
Using aseptic technique, inject healthy pregnant cattle with 2 mL subcutaneously 3 months prior to calving. Repeat in 3 - 6 weeks following initial vaccination. For subsequent calvings, revaccinate with a single 2 mL dose 5 - 7 weeks before calving. For E. coli, protection was shown when the first dose was given as early as 6 months prior to calving.
Store at 2° to 7°C (35° to 45°F). Do not freeze. Shake well before use. Use entire contents when first opened. Do not vaccinate within 60 days before slaughter. Transient local reaction may occur at the injection site. If allergic response occurs, administer epinephrine.
Reviews