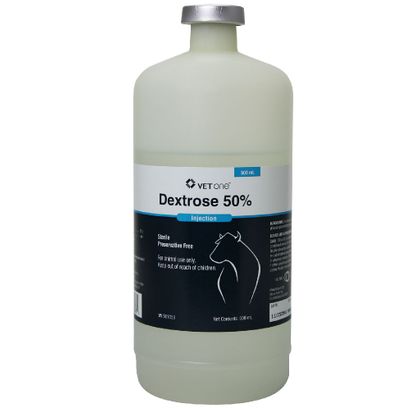 Dextrose 50% Sterile Preservative Free Solution Injection, 500mL
Item# MWI501053
FREE SHIPPING Over $79! * Pet Food & Other Exclusions
Vetmedin is in limited supply. Orders placed will be shipped as product continues to come off backorder.
Notice
Description
Directions
Reviews
Notices
*Limited supply item - only two (6) per customer per order. This product is on nationwide allocation. Thus orders may take up to three (3) weeks or longer to be fulfilled.
NOTE: Additional pet food ground/overweight shipping charges apply. This item DOES NOT qualify for free shipping.
Description
Dextrose 50% Injection. This sterile, preservative-free solution is for use as an aid in the treatment of uncomplicated ketosis in cattle. Each 100 mL contains 50 grams of dextrose monohydrate and water for injection q.s. May contain hydrochloric acid or sodium hydroxide for pH adjustment (hypertonic pH per liter is 3.5–6.5). Caloric value per liter is 1700. Administer IV only.
Directions
Cattle: 100 to 500 mL depending on size and condition of animal. For intravenous use only. Solution should be warmed to body temperature and administered slowly. This product is sterile in unopened container. Contains no preservative. If entire contents are not used, discard unused portion. Handle under strict aseptic conditions.
STORAGE: Store at controlled room temperature between 59° and 86°F (15° - 30°C).
Reviews