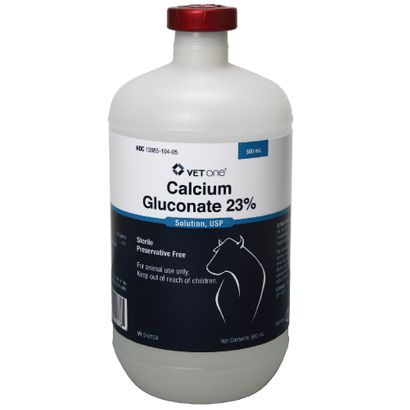 Calcium Gluconate 23% Sterile Preservative Free Solution, 500mL
Item# IWM510104
FREE SHIPPING Over $79! * Pet Food & Other Exclusions
Vetmedin is in limited supply. Orders placed will be shipped as product continues to come off backorder.
Description
Directions
Reviews
Description
Calcium Gluconate 23% Solution Sterile, preservative-free solution for use as an aid in the treatment of parturient paresis (milk fever) in cattle. Administer intravenously or intraperitoneally. Plastic bottle has an integrated fold-flat hook for hanging. Each 100 mL contains:
Calcium gluconate (provides 2.14 grams calcium), 23 grams
Water for injection, q.s.
Boric acid as a solubilizing agent
Directions
Cattle: 250 to 500 mL. Administer intravenously or intraperitoneally. Solution should be warmed to body temperature and administered slowly.
This product is sterile in unopened container. It contains no preservative. Use entire contents when first opened. Discard any unused portion. Handle under aseptic conditions. If there is no apparent improvement in the animal's condition within 24 hours, consult a veterinarian.
STORAGE: Store between 15° and 30°C (59°-86°F).
Reviews