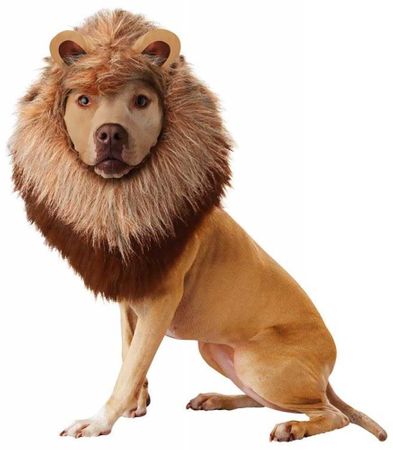 Animal Planet Lion Dog Costume - Medium
Item# PET20123M
FREE SHIPPING Over $79! * Pet Food & Other Exclusions
Vetmedin is in limited supply. Orders placed will be shipped as product continues to come off backorder.
Description
Directions
Reviews
Description
Animal Planet Lion Dog Costume. If you've ever wanted a lion as a pet, well you've got it! This Lion costume transforms your little friend into a King of the Jungle Lion Dog with the plush mane headpiece. This costume is simple to use since it works like a hood. Simply pull it over your pet's head and your pet is instantly transformed into the king of the jungle! This substantial costume is great for big or little dogs and works exceptionally well on tan and brown colored dogs.
The plush material of this quality dog costume will keep your pet cozy and warm while trick or treating. This lion mane hood is great for safari-themed photo shoots and conservation events. Of course, it's perfect for Halloween too!
Key Benefits
One piece costume
Plush mane headpiece
100% polyester
Directions
Important Sizing Note:
The following measurements are the dimensions of the actual product, not of the pet they fit. After measuring your pet, make sure all measurements fit within the following dimensions (with a little room to spare in the chest and neck).
X-Small
Back Length: 8"
Chest: 12" - 16" (Most important)
Neck: 10" - 12"
Breed - Bichon Frise, Brussels Griffon, Maltese, Miniature Pincher, Papillon
Small
Back Length: 12"
Chest: 16" - 20" (Most important)
Neck: 12" - 14"
Breed - Dachshund-Miniature, Norfolk Terrier, Pekingese, Pomeranian, Toy Poodle
Medium
Back Length: 16"
Chest: 20" - 24" (Most important)
Neck: 14" - 16"
Breed - Beagle, Dachshund, Jack Russell Terrier, Lhasa-Apso, Miniature Scottie, Pug, Schnauzer
Large
Back Length: 20"
Chest: 24" - 28" (Most important)
Neck: 16" - 20"
Breed - Small Boxer, Labrador Retriever, Golden Retriever, Weimaraner, Whippet
Please make sure to measure your pet for the best possible fit. If your pet measures between two sizes, we advise ordering the larger of the two.
Hand wash with cold water, do not tumble dry or bleach. Line dry.
Reviews