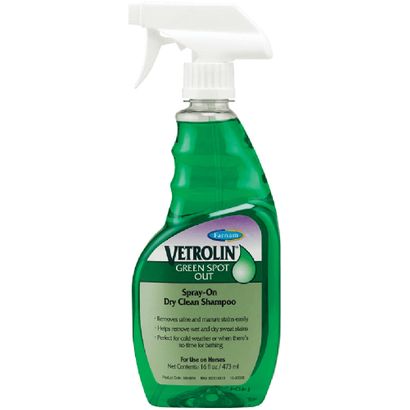 Farnam Vetrolin Green Spot Out 16oz
Item# IWM054452
FREE SHIPPING Over $79! * Pet Food & Other Exclusions
Vetmedin is in limited supply. Orders placed will be shipped as product continues to come off backorder.
Description
Directions
Reviews
Description
Farnam Green Spot Out Spray-on Dry Clean Horse Shampoo. This spray-on, dry shampoo is perfect for cold weather or when there's no time for bathing your best buddy. Simply spray it on, massage it in, and wipe with a damp towel until the stain is removed. Finish off with a dry towel and brush to bring out that show-stopping, glossy shine. Thereís no rinsing required, which makes it fast and easy. This special shampoo is sure to leave your hoofed buddy looking clean and fresh between baths!
Removes urine and manure stains quickly and easily so you can get back to riding!
Also helps remove wet and dry sweat stains on your hoofed friendís coat.
Excellent spot cleaner for light-colored coats.
Brush out for a high-gloss, show-stopping shine!
No rinsing required, so itís perfect for cold days or when you are short on time.
Directions
Spray a small amount directly on the spot. Massage it in and wipe off using a damp towel. Repeat, working in small areas, until stain is removed and entire area is clean. Finish off with a dry towel and brush to bring out shine.
Reviews